Welcome, Parents! We are currently working to improve our website with you in mind. Our goal is to provide you with all of the resources you will need from us, starting with the basics you see here. We hope you find our website useful. If a resource you are looking for is not on this page, you may email us to inquire about it. Click here to get in touch.
---
School Supply Lists
Class supply lists for School Year 2022-2023 are now available! Sorry for the delay.
Choose the supply list that is appropriate from the new options below.
---
Enrollment
Registration for next school year (2022-2023) has started. Registration day is Sunday, May 15th. Please come if you are able. If you have not spoken to us about enrolling your child for next year, then we may not have room as our classes are almost full. Please contact us if you are unsure.
Registration forms are available here:
HPCS Registration Forms PDF  -  Use these forms to print and fill later by hand.
Fillable HPCS Registration Forms WORD -  Use these forms to fill out electronically before printing.
---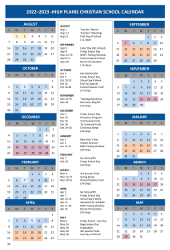 Next School Year
Summer Break has begun, but classes will return on August 15, 2022.
Click here to get a sneak peak at next years calendar.
---
Bloomz

We use Bloomz for secure communication with the parents of our students. It is great for keeping parents informed of that which is going on at our school. Bloomz is a great resource and free to use. You can access Bloomz on the web by clicking the link to the right. Bloomz is also available as a mobile app. If you are not using Bloomz and your child is a current student, please contact us for an access code and then create an account.